HERE'S A COMPLETE LIST OF WHAT'S COMING TO NETFLIX THIS JUNE 2020
4 years ago in SHOWS & MOVIES
A new month calls for a new set of films and series to binge-watch on Netflix. Summer may have gone into full swing but uncertainty still looms us due to the coronavirus pandemic. Most of us are still spending the majority of our time at home finding ways to pass the time from reading books, joining virtual tours to streaming new movies, and binge-watching TV shows.
As it does every month, Netflix rolled out a new set of titles arriving on the streaming giant on June 1 and continuing throughout the month,
Aside from the local Filipino movies to watch out for this coming month. Here's the complete list of  June Netflix releases and corresponding dates.
WEST SIDE STORY
Steven Spielberg's long-awaited adaptation of the classic musical is due out in December but, first, you can see the 1961 original on Netflix. Whether you haven't seen the Best Picture-winning classic or you're due for a rewatch, Netflix will have it available in widescreen on June 1. Everybody could use a little music and dance right about now.
DA 5 BLOODS
Spike Lee's follow-up to his Oscar-winning hit BlacKkKlansman comes directly to Netflix on June 12. The new film focuses on a group of Vietnam War vets who return to the country to recover the remains of their fallen squad leader and buried treasure they left behind during the war. Chadwick Boseman, Delroy Lindo, Jonathan Majors, Isiah Whitlock Jr., and Norm Lewis star in the film that Lee says is not "disrespectful to any Vietnam film that's been made, except maybe The Green Berets with John Wayne, who is not a hero of mine."
HOW TO GET AWAY WITH MURDER SEASON 6
Finally, Netflix will complete the series this coming June. The season follows the life of Annalise as she starts suspecting Tegan after Nate sees her talking to Vivian. Bonnie is fired from the DA's office after obtaining Vivian's sealed file illegally. Annalise visits Vivian and tells her Gabriel killed her boyfriend. Michaela locates her father with Oliver's help but finds out he died in prison a year before. Still, deranged and twisted but all worth it.
THE POLITICIAN SEASON 2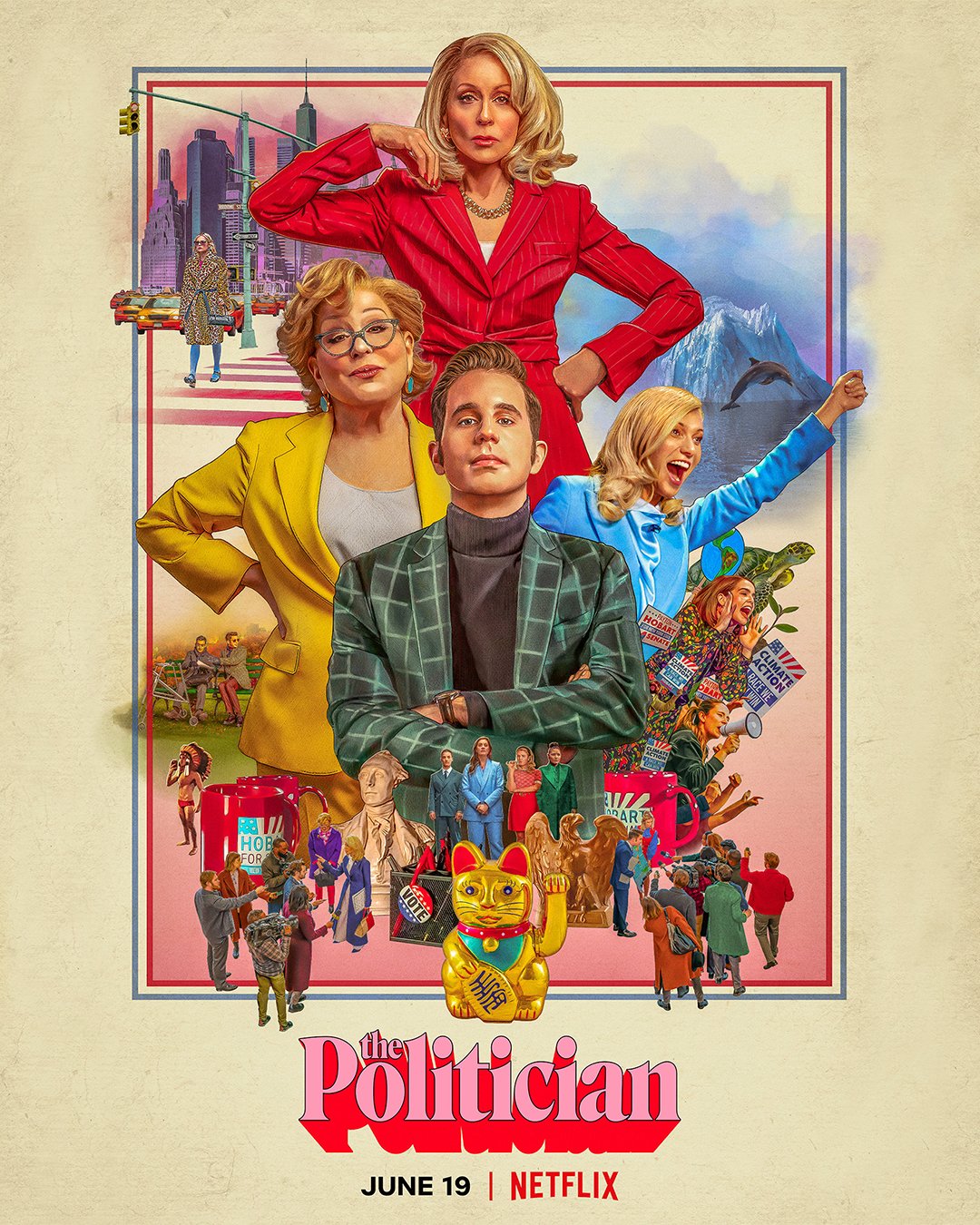 The next season of the Ryan Murphy series where Payton will be running for an actual office with his crack team is finally hitting the streaming site this June.
Eurovision Song Contest: The Story of Fire Saga (2020)
Will Ferrell and Rachel McAdams appear in this comedy based on the singing contest.
Frost/Nixon (2008)
The incredible biopic starring Frank Langella and Michael Sheen on the now world-famous interview directed by Ron Howard and nominated for five Oscars.
Before I Fall (2017)
Mystery movie that sees a girl relive the same day over and over hoping to find out the way she died.
Anastasia (1997)
The last surviving child of the Russian Royal Family joins two con men to reunite with her grandmother, the Dowager Empress, while the undead Rasputin seeks her death.
Available 6/1
Act of Valor
All Dogs Go to Heaven
Bad News Bears
The Boy
Cape Fear
The Car
Casper
Cardcaptor Sakura: Clow Card
Cardcaptor Sakura: Sakura Card
Clueless
Cocomelon, Season 1
The Disaster Artist
E.T. the Extra-Terrestrial
The Healer
The Help
Inside Man
The Lake House
Lust, Caution
Observe and Report
Priest
The Queen
The Silence of the Lambs
Starship Troopers
Twister
V for Vendetta
Walk Hard: The Dewey Cox Story
West Side Story
You Don't Mess with the Zohan
Zodiac
Available 6/2
Alone, Season 6
Fuller House, The Farewell Season (Netflix original)
True: Rainbow Rescue (Netflix original)
Available 6/3
Killing Gunther
Lady Bird
Spelling the Dream (Netflix documentary)
Available 6/4
Baki: The Great Raitai Tournament Saga (Netflix anime)
Can You Hear Me / M'entends-tu? (Netflix original)
Available 6/5
13 Reasons Why, Season 4 (Netflix original)
Choked: Paisa Bolta Hai (Netflix film)
Hannibal, Seasons 1-3
The Last Days of American Crime (Netflix film)
Queer Eye, Season 5 (Netfilx original)
Available 6/6
Queen of the South, Season 4
Available 6/7
Patriot Act with Hasan Minhaj, Volume 6 (Netflix original)
Available 6/8
Before I Fall
Available 6/10
Curon (Netflix original)
DC's Legends of Tomorrow, Season 5
Lenox Hill (Netflix documentary)
Middle Men
My Mister, Season 1
Reality Z (Netflix original)
Available 6/11
Pose, Season 2
Available 6/12
Da 5 Bloods (Netflix film)
Dating Around, Season 2 (Netflix original)
F is for Family, Season 4 (Netflix original)
Jo Koy: In His Elements (Netflix comedy special)
Kipo and the Age of Wonderbeasts, Season 2 (Netflix original)
ONE PIECE: Alabasta
ONE PIECE: East Blue
ONE PIECE: Enter Chopper at the Winter Island
ONE PIECE: Entering into the Grand Line
Pokémon Journeys: The Series (Netflix original)
The Search (Netflix original)
The Woods (Netflix original)
Available 6/13
Alexa & Katie, Part 4 (Netflix original)
How to Get Away With Murder, Season 6
Milea
Available 6/14
Marcella, Season 3 (Netflix original)
Available 6/15
Underdogs
Available 6/16
Baby Mama
Charlie St. Cloud
The Darkness
Frost/Nixon
Available 6/17
An Evening with Beverly Luff Linn
Mr. Iglesias, Part 2 (Netflix original)
Available 6/18
A Whisker Away (Netflix anime)
The Order, Season 2 (Netflix original)
Available 6/19
Babies, Part 2 (Netflix documentary)
Father Soldier Son (Netflix documentary)
Feel the Beat (Netflix film)
Floor Is Lava (Netflix original)
Lost Bullet (Netflix film)
Girls from Ipanema, Season 2 (Netflix original)
One-Way To Tomorrow (Netflix film)
The Politician, Season 2 (Netflix original)
Rhyme Time Town (Netflix original)
Wasp Network (Netflix film)
Available 6/21
Goldie
Available 6/22
Dark Skies
Available 6/23
Eric Andre: Legalize Everything (Netflix comedy special)
Available 6/24
Athlete A (Netflix documentary)
Crazy Delicious (Netflix original)
Nobody Knows I'm Here / Nadie sabe que estoy aquí (Netflix film)
Available 6/26
Amar y vivir (Netflix original)
Eurovision Song Contest: The Story of Fire Saga (Netflix film)
Home Game (Netflix documentary)
Straight Up
Available 6/29
Bratz: The Movie
Available 6/30
Adú (Netflix film)
BNA (Netflix anime)
George Lopez: We'll Do It For Half (Netflix comedy special)
June TBA
It's Okay to Not Be Okay (Netflix original)
One Take (Netflix film)
Roswell, New Mexico, Season 2
The Show Must Go On: The Queen + Adam Lambert Story 
Latest posts by Style MNL staff
(see all)